News
Concept redeploys manufacturing plant to produce hand sanitisers and infection control products, joining the fight against Covid-19
15 May 2020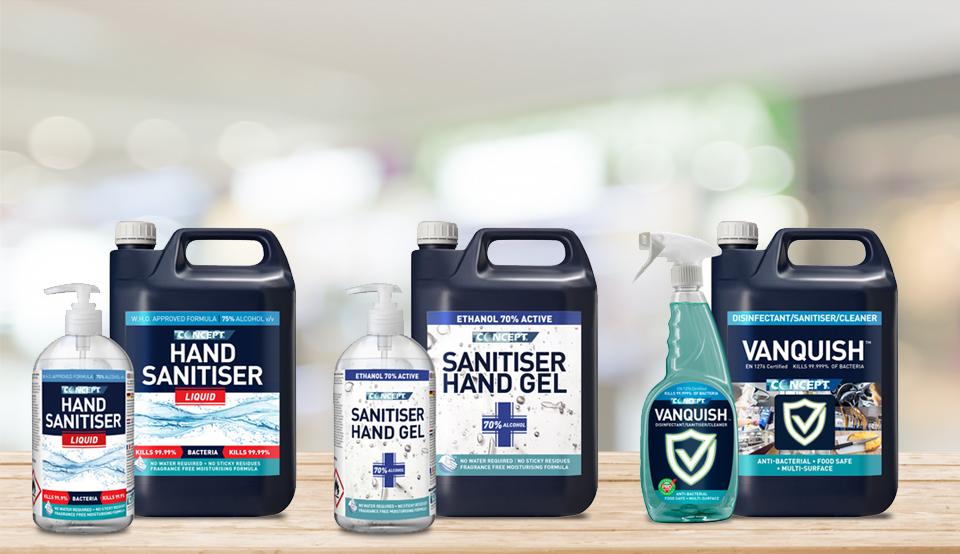 Hand hygiene remains at the forefront of mind for millions throughout the world as experts continue to reinforce its critical role in curbing the spread of diseases.
"This is an unprecedented time in world healthcare. We knew we had to do something to assist and help our customers, so we have pivoted our manufacturing space to create much needed product" says David Stockfis, Managing Director of Concept.
Concept has quickly produced a W.H.O. (World Health Organisation) approved hand sanitiser formulation available in small dispensers and bulk packs. Able to kill 99.99% of germs and bacteria, the "no-water-required" liquid is helping in the ongoing fight.
As well as manufacturing the W.H.O. approved liquid, Concept is also producing a -Sanitiser Hand Gel (with ethanol 70% active) for those who prefer to use a fast drying "gel" rather than a liquid.
Vanquish, another new product being produced, which is EN 1276 & 13697 & 1650 Certified, – is a ready-to-use, sprayable, food-safe, multi-surface liquid that provides an anti-bacterial disinfectant and cleaning action across all washable hard surfaces, killing 99.999% of harmful germs and bacteria.
Automechanika Shangai 2018 a great success
12 December 2018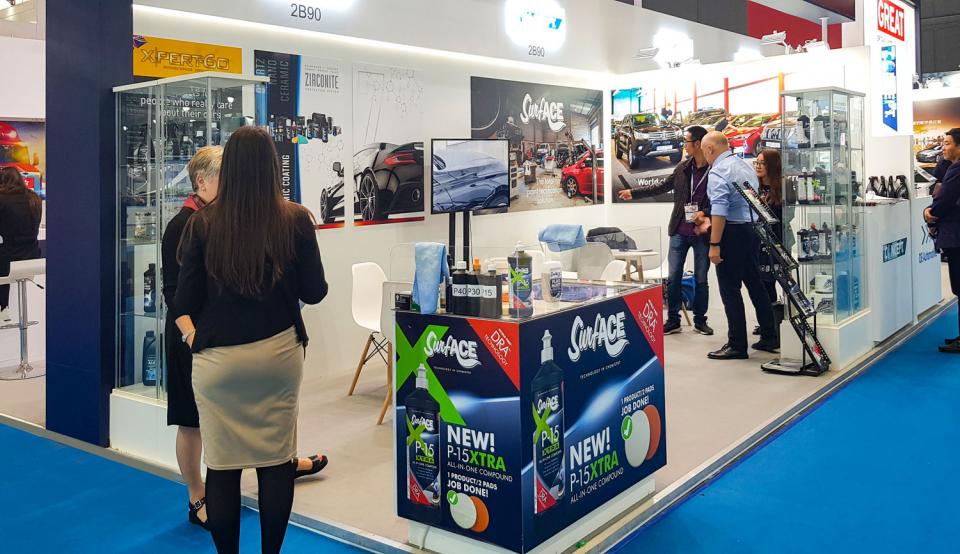 China continues to be an important and growing market for UK automotive – the Chinese vehicle market is the largest in the world at 24.4 million units annually and its significance is only likely to increase. This is paired with Automechanika Shanghai being Asia's largest trade fair for automotive parts, accessories, equipment and services.
The SMMT (Society of Motor Manufacturers & Traders) brought together 10 companies including for the first time, Concept Chemicals & Coatings, on the UK pavilion at Automechanika Shanghai. With over 140,000 visitors from 142 countries coming along to the show, Automechanika has once again proven to be a very busy and successful event for UK delegates.
Significant attention was paid to all four Concept brands by business principals who were seeking out the very latest automotive technical/chemical products and problem solving solutions being manufactured in Great Britain
Britain's long established reputation for innovation and for the manufacturer of the highest quality products undoubtedly carries a significant pull.
A high level of interest in particular was shown in the world-first technology that has been developed by Concept under its Surf-ACE brand, to create P-15 XTRA Compound using unique DRA™ (Dynamic Response Abrasion) chemistry with micro-precision oxides.
Enquiries for all Concept brands were taken from over 4 continents!
Concept Automechanika Frankfurt 2018
09 September 2018


Once again Concept exhibited its 4 brands at Automechanika Frankfurt; this time in a new hall (hall 12.0), with a new and larger stand, to properly exploit the marketing opportunity.
Concept used the occasion to reinforce it's 4 brands' positioning in various markets - from retail/e-tail, bodyshop, and professional cleaning/conditioning. At the same time launching several exciting new products, about which we will update you soon
Attendance and interest on the stand from new show visitors was up on previous years, despite the fact that the new hall was a little difficult to find.
Several new products were launched at the show including a new ceramic and nano coating range under the Zirconite brand, P-15 XTRA from Surf-ACE. Although not new for the show, an expanded range of Xpert-60 products was shown - giving retailer/e-tailers even more room for growth.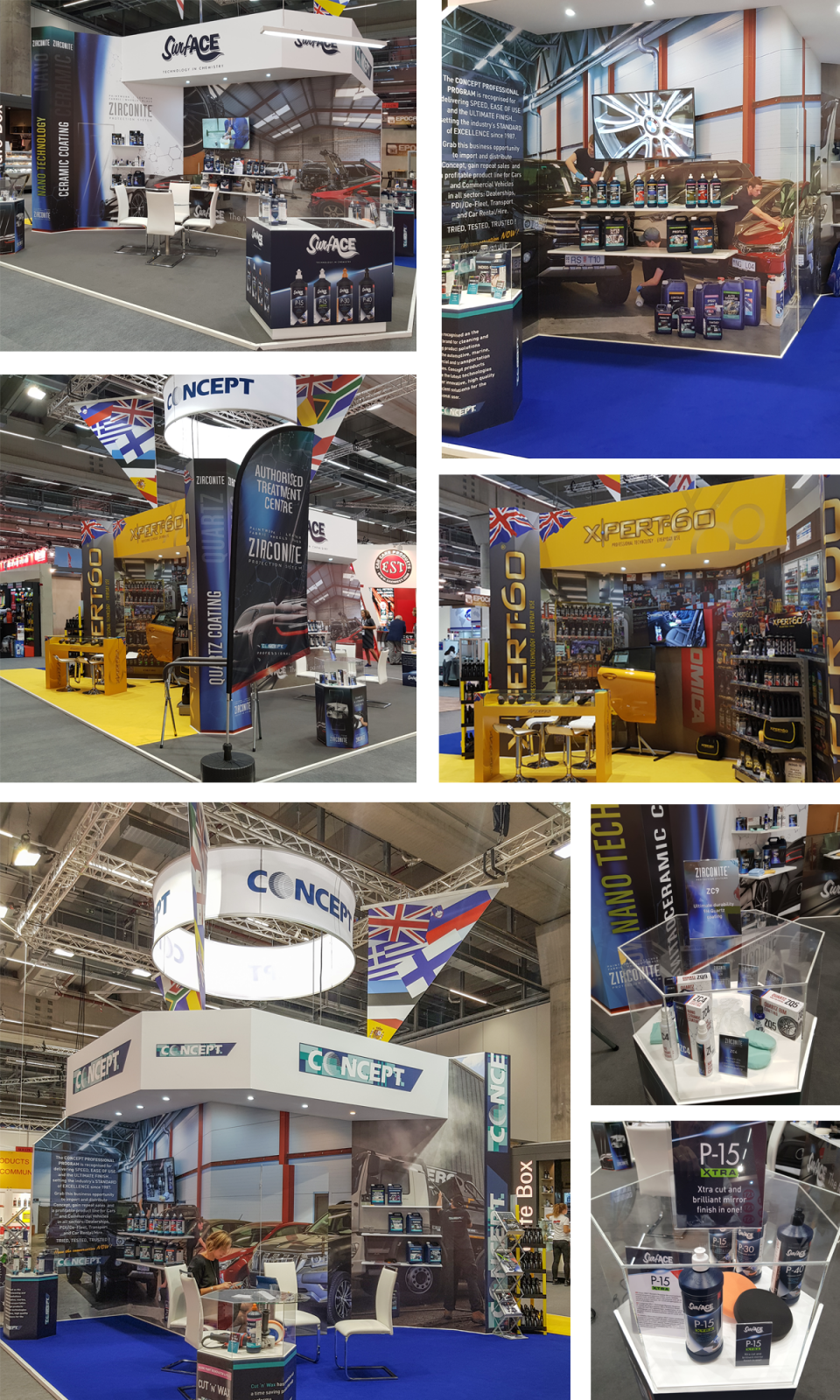 NEW! Surf-ACE P-15 XTRA
18 August 2018
Concept has done it again with its innovative Surf-ACE brand.
Several years of concentrated development and testing has yielded yet another world-first product in P-15 XTRA. Early trials in strenuous real-world scenarios have received nothing but praise for the product!
Now ready to be launched to the world at this years forthcoming 2018 Automechanika Frankfurt, NEW P-15 XTRA with unique DRA™ (Dynamic Response Abrasion) technology incorporating micro-precision oxides, easily removes imperfections, scratches, swirls and oxidation from all finishes including scratch-resistant, UV-cured and aged paints in the shortest possible time.
P-15 XTRA benefits from a lubrication system which can be worked for prolonged periods without drying out.
Fast cutting compound
Can be worked for longer
Mirror-like high gloss finish
Does not contain fillers
Guaranteed minimal drop back or bleed back
Quick and easy clean-up
Use on all automotive paint types
P-15 XTRA is the ideal polishing compound to prep all types of paint coatings including prior to quartz and ceramic coating (glass coating). Using the correct pads you can compound and glaze with just one product!
New Design Polishing Process Chart available now.
01 February 2018
Just released by Concept, the large (500mm x 700mm) 2018 Polishing Process chart helps you understand the simplicity of the Surf-ACE Compound system for paint rectification.
Talk to your distributor of Surf-ACE products to get yours!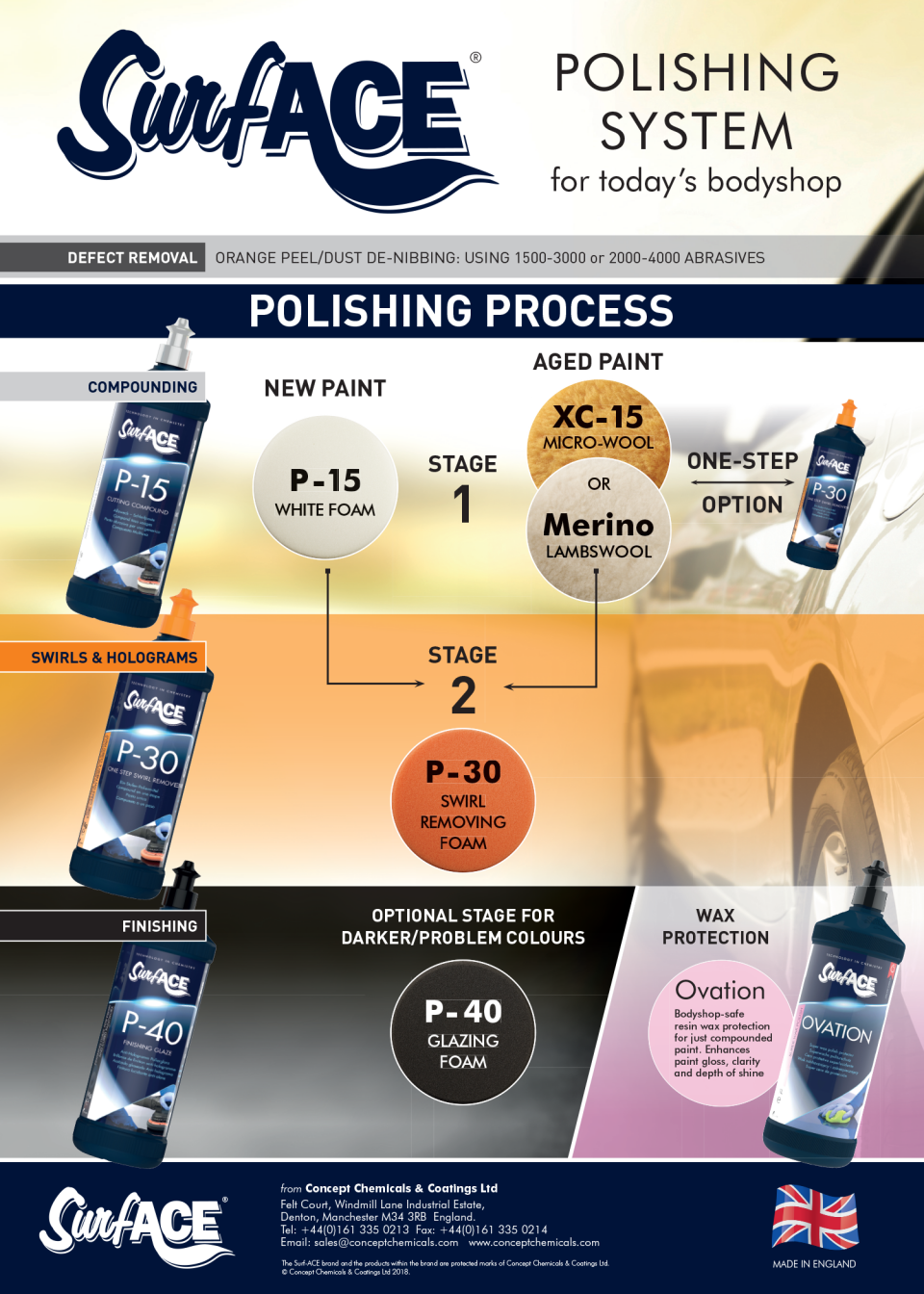 Two great new products ideal for bodyshops
01 January 2018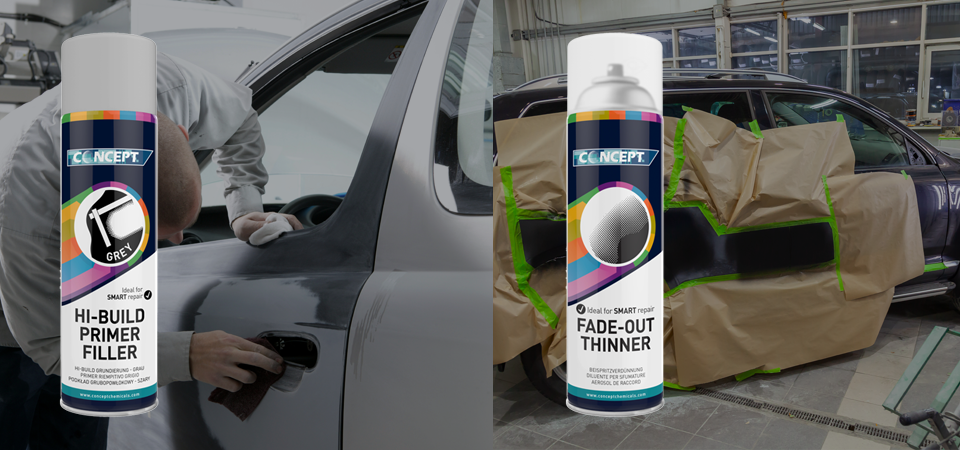 Concept have launched two great products that will be invaluable in bodyshops: Hi Build Primer Filler and Fade-Out Thinner. Packed in handy, easy-to-use aerosols both of these products are must haves for the busy repair shop.
Hi Build Primer Filler – Grey Part# 73012
VERY FAST AIR DRYING PRIMER-FILLER
provides a thicker coat to smooth surface imperfections. Compatible with ALL leading water based paint systems, traditional solvent based coatings and 2-pack ambient cured finishes.
Easy to sand, smooth matt finish – ideal for spot and smart repairs.
QUICK DRYING AND READY-TO-USE
Eliminates the need for stopper, putty, fillers and undercoats.
Excellent adhesion - can be applied to all types of metallic surfaces (Zintec, mild steel and aluminium), aged paint finishes and rigid plastics.
Includes 2nd fan spray nozzle for choice/control of spray pattern.
---
Fade-Out Thinner Part# 72012
TIME SAVING
A quick and easy way to blend in paint edges to repaired areas.
TECHNICALLY ADVANCED
A technically advanced blending solvent Fade-Out Thinner is a fast and simple way to accurately dissolve edges on ALL clearcoats and paints to give an invisible blend/finish.
THE PERFECT SOLUTION FOR SMART REPAIRS
This 'spot' repair blender enables the user to confine repair to a single panel.
SAVES TIME AND COSTS
Once clearcoat has been applied, the painter sprays on a light mist coat of Fade-Out Thinner to effectively blend the area.
The blended edge will melt into the original paintwork, needs little or no processing once the paintwork is cured.