News
Brand merchandise – be part of the team!
22 May 2023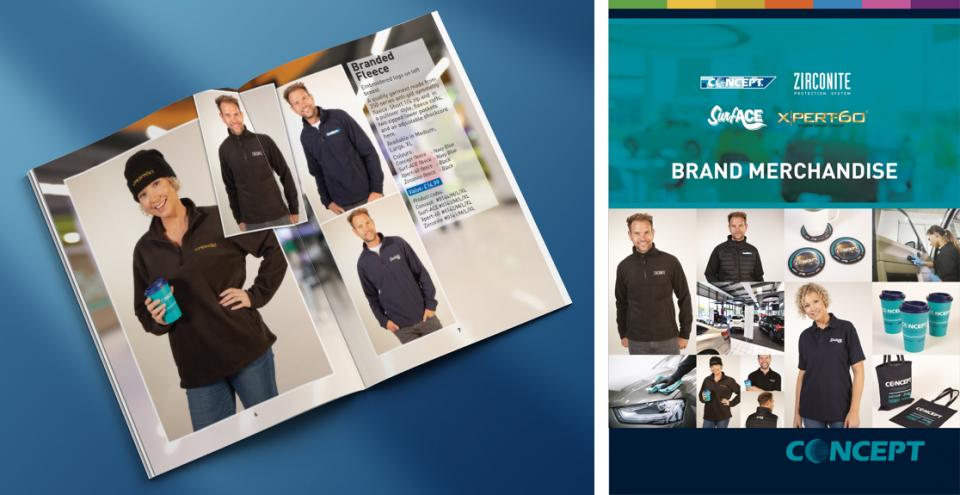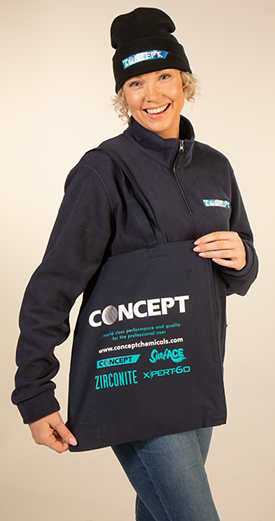 There are lots of reasons people wear branded clothing and use merchandise:
To show your love for the product.
Because the merchandise works and is cost-effective.
Because, sometimes, it's free.
Often, it's to show people you are part of an ever growing professional "Team".
Whatever the reason, now's your opportunity to ask your distributor for some of Concept Chemicals merchandise available in all four fabulous brands.
From beanies and polos, right through to coasters and tote bags.
Download the brochure from here to see what's available.
Wear the brands you use with pride.
Unusual uses for Concept products: Wind turbine blade cleaning
03 May 2023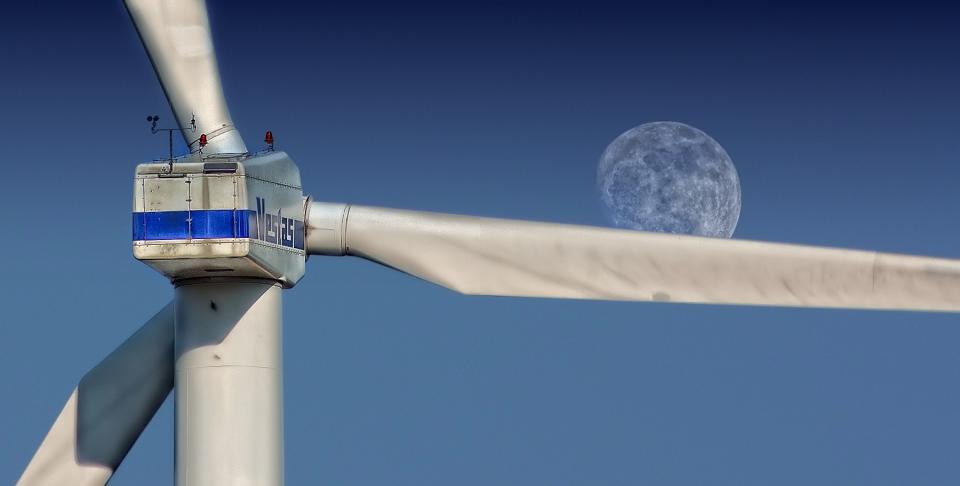 Why would one want to clean wind turbine blades?
They are out in the in open air, they get rained on, they have "slippery" surfaces.
Surely they don't get that dirty?
Well, they do, and cleaning them regularly is all in the name of efficiency and recovering lost energy output.
One of the issues is dust accumulation causing roughness of the blade surface, resulting in power loss. Another one is industrial fallout/iron deposits. Not obvious but think about it… industrial fall-out can be carried for miles from the source and turbines are tall things meant to catch the wind and, as a consequence, the stuff it carries along.
A wind turbine blade cleaning company (yep, there are such things – who knew) was looking for a product that would help clean the blades and get rid of industrial fall-out efficiently.
We like to think he was having a chat in the pub to some friends and mentioned the problem to them – one of whom was a Concept Chemicals user and recommended he try Indigo-10. (Our paintwork & exterior de-contaminant/fallout remover which is pH neutral, acid free, non-caustic and is multi-surface safe - being able to be used on all vehicle exterior surfaces such as paintwork, plastics, glass, chrome etc.)
However he actually found out about it, his company tried the product and was totally sold on its performance.
Available in 5L, 25L AND 200Litre drums (for those, you know, big jobs…)
Check out the data sheet : Just click on these blue words.
XPERT-60 Liquid Shield helps cable cars survive harsh working environments.
02 May 2023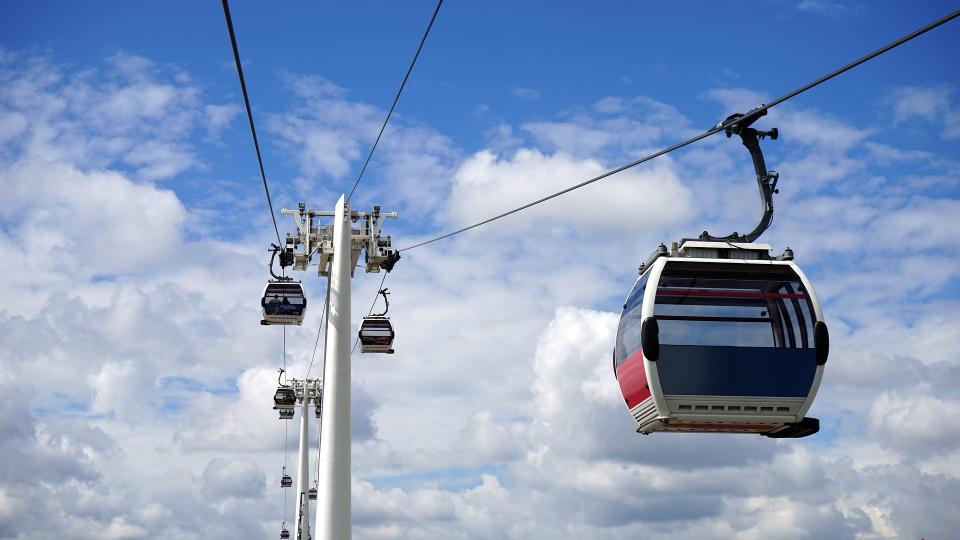 An Alps based world-class cable car gondola manufacturer and installer, recently introduced a further step in its highly specialised gondola refurbishment and maintenance programme.
That extra step is an application of Xpert-60 Liquid Shield to refurbished and repainted gondola surfaces.
You might think alpine cable-car gondolas have an easy time of it – just trundling up and down all day in nice weather (after all, they are not in use when conditions are severe).
But you'd be wrong.
Not only are they exposed to extremes of temperature - baking harsh sun with harmful UV rays not filtered out by the thinner atmosphere at altitude. They also have to endure night temperatures that plummet well below zero degrees - and that's in good weather. When the weather gets nasty things only get worse for the gondolas…whirling snowstorms throw dust, dirt and icicle sharp particles against glistening paintwork reducing the overall length of time gondolas look pristine.
Naturally, the gondolas get cleaned regularly but, in reality, that only makes things worse. All that accumulated dirt and dust gets ground into the paint, acting like sandpaper – no matter how careful they are.
After exhaustive tests instigated by Concepts distributor, the company decided the application of XPERT-60 Liquid Shield provide a true barrier against the elements, extending the in-work life of the gondolas they produce.
Not only does Xpert-60 Liquid Shield help slow down the degradation of paintwork by UV rays, the nano-barrier it creates also aids in maintenance cleaning by not allowing dirt and other debris to stick in the first place. Xpert-60 Liquid Shield is used on the whole gondola: paintwork, glass and plastics to provide long-term protection from "environmentally" originated damage
As it is extremely simple in application, the company has now incorporated Xpert-60 Liquid Shield as part of its customer delivery process.
Concept Chemicals Brands on YouTube!
04 April 2023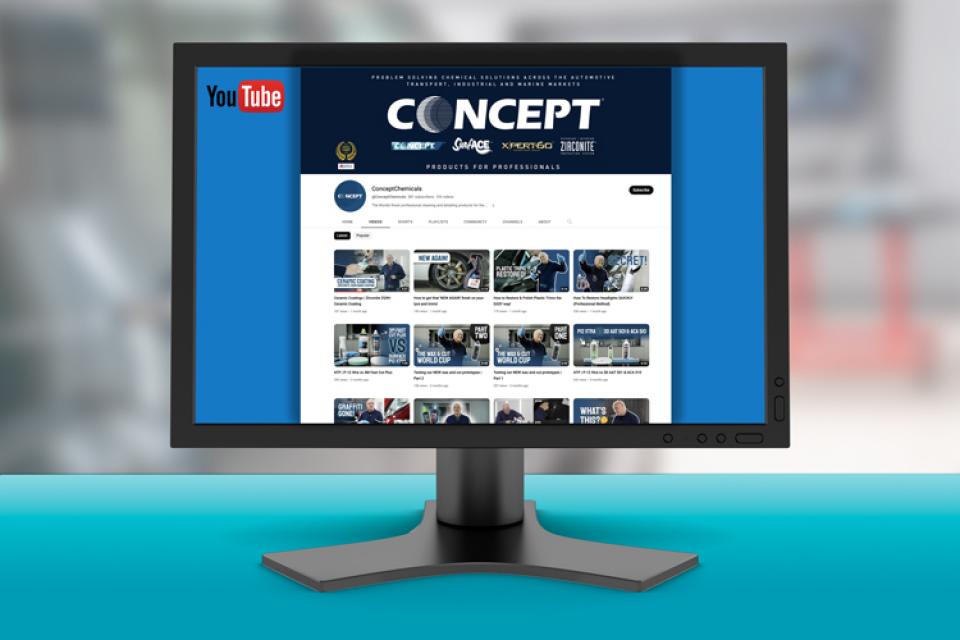 Want hints and tips on how to use Concepts' various brands products to the best effect?
Want to know how Surf-ACE compounds compare to the market competition? Need to know how to remove graffiti from a car? Need training on how to apply Nano Glaze? Want to know how to clean a classic car engine?
Click these blue words and go to Concept Chemicals YouTube channel. You'll get all of the above, and plenty more!
Updated regularly, there's always something of interest whether you are a bodyshop professional, apply ceramic coating, clean cars for a living or are simply really, really interested and a bit of a "detailing nerd" – just like we are!
And, after you've watched the videos, are very impressed with the various products and want to buy some, but don't know where from, contact us here, and we'll let you know where your nearest distributor is.
Typhoon+ - a versatile TFR that's environment friendly an aluminium safe
09 March 2023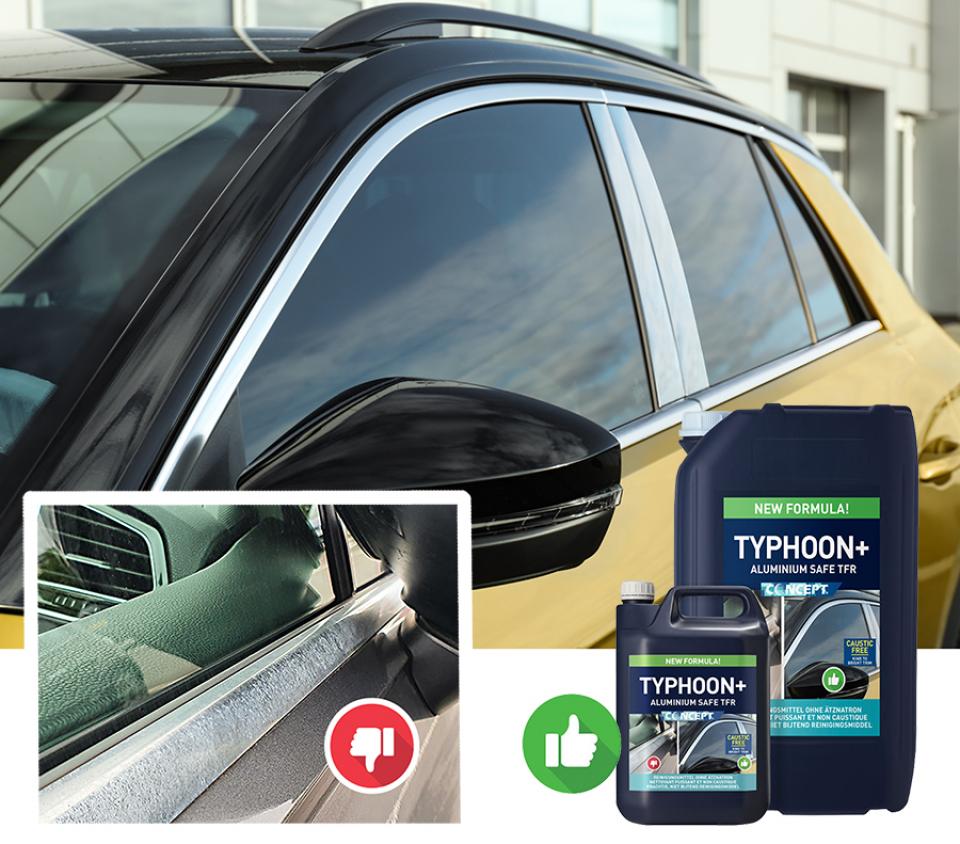 TYPHOON + is a unique, highly active, traffic-film remover which is not only caustic free but is also completely chrome/plastic window trim and aluminium safe!
More and more vehicles are being manufactured with aluminium trim and recycled plastics, don't be fooled, just because it's not shiny "chrome" and looks black – it could be aluminium or even recycled plastic!
Typhoon + is a powerful, trim-safe, caustic free cleaner for a complete range of cleaning tasks, from traffic-film removal to engine and general degreasing – it's that good!
The high active ingredients are perfect for enhanced cleaning of all cars and commercial vehicles and can be used hot or cold with high or low-pressure spray.
The all-round excellent performance and versatility of Typhoon + is ideal for hi-end detailers, body shops, hauliers, truck rental sites, vehicle depots etc.
Concentrated economy with versatility,
Not just on vehicles! In the workshop/garage multitalented Typhoon + SAFELY removes oil, diesel, dirt etc. from concrete, tarmac and painted floors. and Typhoon + is environment friendly: the surfactant(s) contained in Typhoon + comply with the biodegradability criteria as laid down EC regulations.
Product code: 102. To read the data sheet click these blue words
Surf-ACE Compounds now available in handy pack size!
08 March 2023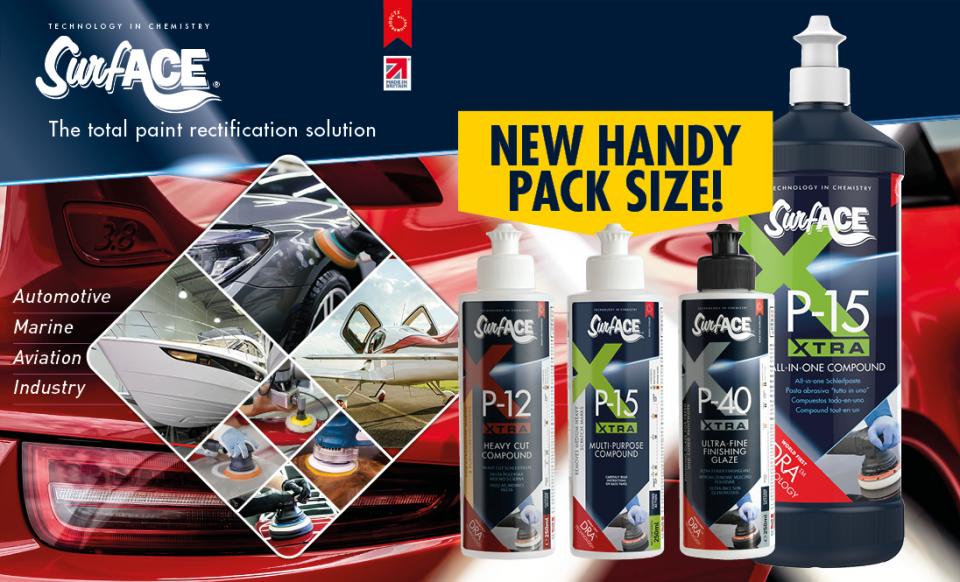 We all know just how good Surf-ACE compounds are, we get told all the time by our users!
Whether it's automotive, marine, aero or industrial, award-winning Surf-ACE Xtra compounds are used by vehicle OEM suppliers on production lines and in crash repair centres throughout Europe. They are also widely utilised in the highly exacting marine and aircraft refinishing sectors where they prove themselves daily
So, what's new?
250ml pack sizes – that's what. The new pack size for Surf-ACE Xtra compounds came about after market research by Concept Chemicals and customer feedback - certain markets were keen to see a smaller pack size. So we delivered!
The 250ml size has a few advantages that are immediately obvious:
• It's handy – obviously – the pack is not as heavy to handle as larger sizes, it can be put in an apron or overall pocket, ready for use by the operator without having to search for where they placed it down.
• If you are a new user of Surf-ACE compounds it gives you an opportunity to try the products and see if they fit with your workflow.
• The 250ml pack has enough to compound a medium size car – so there is no wastage.
Are the 250ml compounds a different formulation to the large pack sizes?
Nope. They are exactly the same. Same ease-of-use, same wonderful performance, same everything - except smaller and of course not the same price!
Need to know who stocks Surf-ACE Compounds near you? Or if you would like more information please contact us here for details.
Order codes for the NEW 250ml Packs:
250ml P-12 XTRA Compound - #713250
250ml P-15 XTRA Compound - #710250
250ml P-40 XTRA Compound - #711250
Concept redeploys manufacturing plant to produce hand sanitisers and infection control products, joining the fight against Covid-19
15 May 2020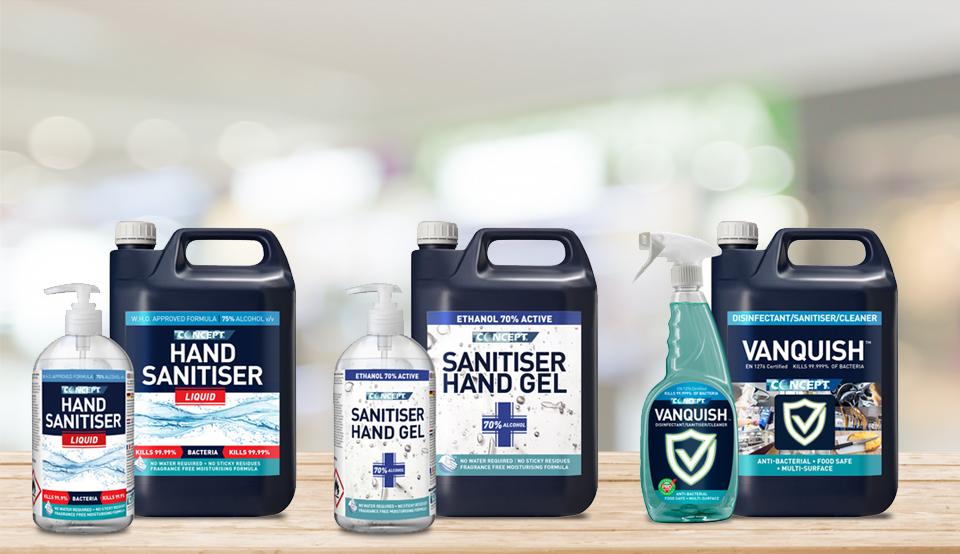 Hand hygiene remains at the forefront of mind for millions throughout the world as experts continue to reinforce its critical role in curbing the spread of diseases.
"This is an unprecedented time in world healthcare. We knew we had to do something to assist and help our customers, so we have pivoted our manufacturing space to create much needed product" says David Stockfis, Managing Director of Concept.
Concept has quickly produced a W.H.O. (World Health Organisation) approved hand sanitiser formulation available in small dispensers and bulk packs. Able to kill 99.99% of germs and bacteria, the "no-water-required" liquid is helping in the ongoing fight.
As well as manufacturing the W.H.O. approved liquid, Concept is also producing a -Sanitiser Hand Gel (with ethanol 70% active) for those who prefer to use a fast drying "gel" rather than a liquid.
Vanquish, another new product being produced, which is EN 1276 & 13697 & 1650 Certified, – is a ready-to-use, sprayable, food-safe, multi-surface liquid that provides an anti-bacterial disinfectant and cleaning action across all washable hard surfaces, killing 99.999% of harmful germs and bacteria.
Automechanika Shangai 2018 a great success
12 December 2018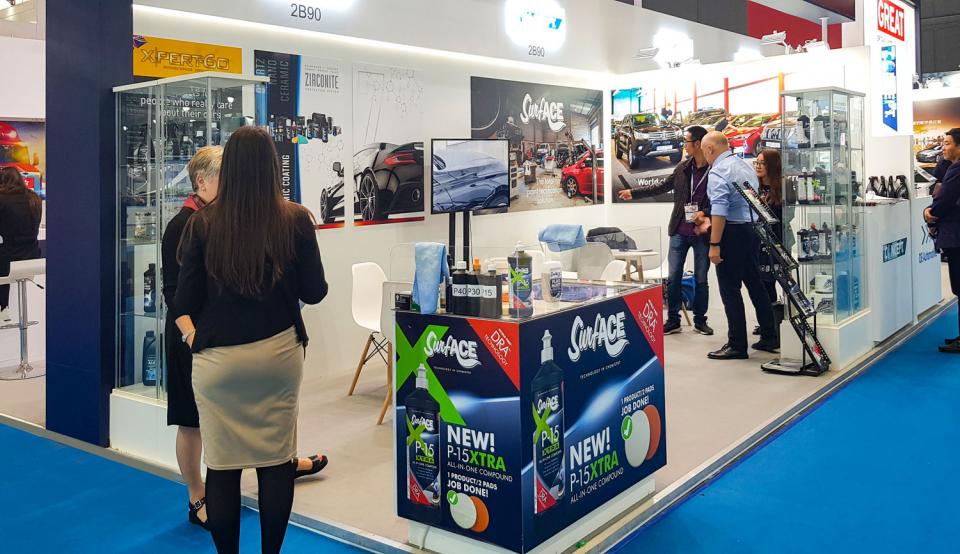 China continues to be an important and growing market for UK automotive – the Chinese vehicle market is the largest in the world at 24.4 million units annually and its significance is only likely to increase. This is paired with Automechanika Shanghai being Asia's largest trade fair for automotive parts, accessories, equipment and services.
The SMMT (Society of Motor Manufacturers & Traders) brought together 10 companies including for the first time, Concept Chemicals & Coatings, on the UK pavilion at Automechanika Shanghai. With over 140,000 visitors from 142 countries coming along to the show, Automechanika has once again proven to be a very busy and successful event for UK delegates.
Significant attention was paid to all four Concept brands by business principals who were seeking out the very latest automotive technical/chemical products and problem solving solutions being manufactured in Great Britain
Britain's long established reputation for innovation and for the manufacturer of the highest quality products undoubtedly carries a significant pull.
A high level of interest in particular was shown in the world-first technology that has been developed by Concept under its Surf-ACE brand, to create P-15 XTRA Compound using unique DRA™ (Dynamic Response Abrasion) chemistry with micro-precision oxides.
Enquiries for all Concept brands were taken from over 4 continents!
Concept Automechanika Frankfurt 2018
09 September 2018


Once again Concept exhibited its 4 brands at Automechanika Frankfurt; this time in a new hall (hall 12.0), with a new and larger stand, to properly exploit the marketing opportunity.
Concept used the occasion to reinforce it's 4 brands' positioning in various markets - from retail/e-tail, bodyshop, and professional cleaning/conditioning. At the same time launching several exciting new products, about which we will update you soon
Attendance and interest on the stand from new show visitors was up on previous years, despite the fact that the new hall was a little difficult to find.
Several new products were launched at the show including a new ceramic and nano coating range under the Zirconite brand, P-15 XTRA from Surf-ACE. Although not new for the show, an expanded range of Xpert-60 products was shown - giving retailer/e-tailers even more room for growth.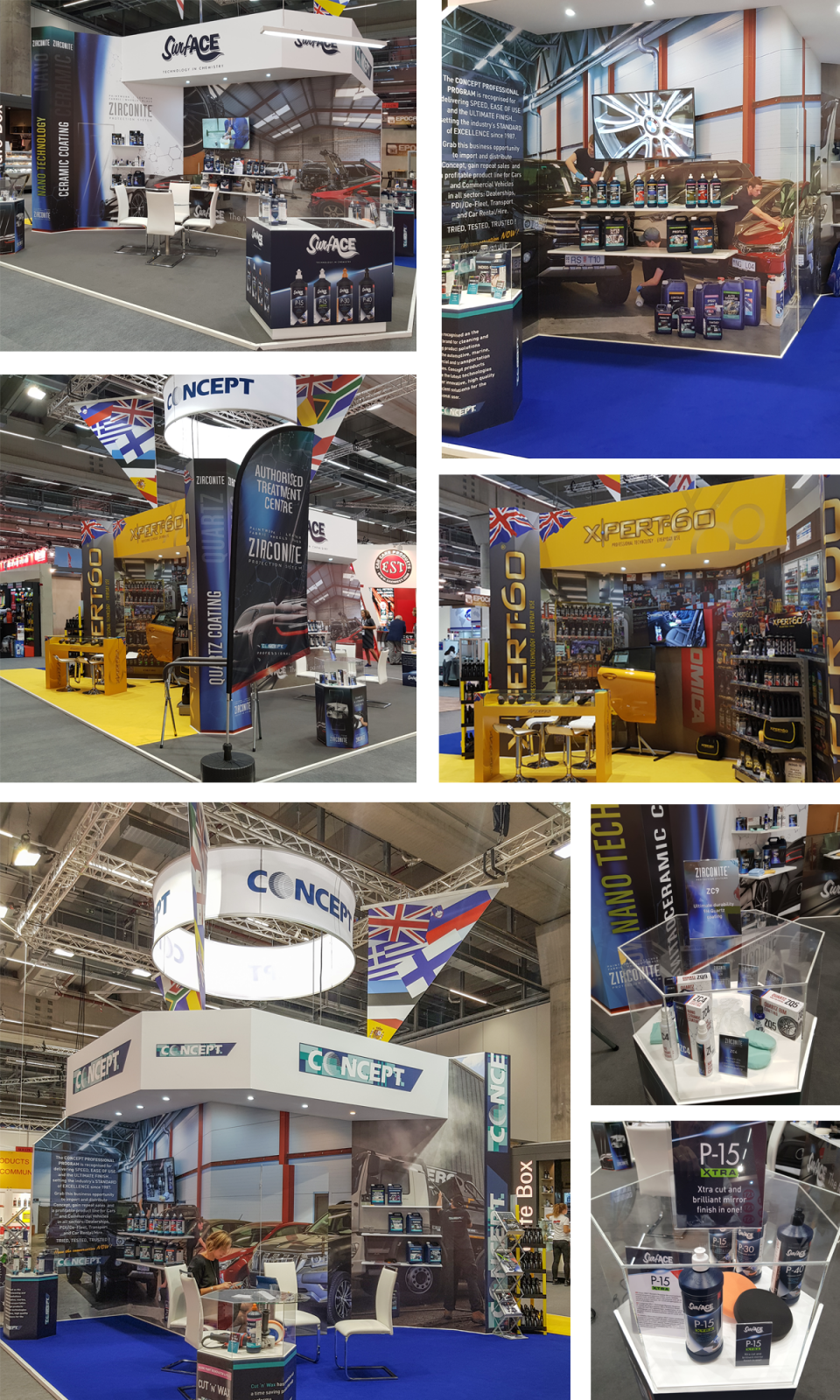 NEW! Surf-ACE P-15 XTRA
18 August 2018
Concept has done it again with its innovative Surf-ACE brand.
Several years of concentrated development and testing has yielded yet another world-first product in P-15 XTRA. Early trials in strenuous real-world scenarios have received nothing but praise for the product!
Now ready to be launched to the world at this years forthcoming 2018 Automechanika Frankfurt, NEW P-15 XTRA with unique DRA™ (Dynamic Response Abrasion) technology incorporating micro-precision oxides, easily removes imperfections, scratches, swirls and oxidation from all finishes including scratch-resistant, UV-cured and aged paints in the shortest possible time.
P-15 XTRA benefits from a lubrication system which can be worked for prolonged periods without drying out.
Fast cutting compound
Can be worked for longer
Mirror-like high gloss finish
Does not contain fillers
Guaranteed minimal drop back or bleed back
Quick and easy clean-up
Use on all automotive paint types
P-15 XTRA is the ideal polishing compound to prep all types of paint coatings including prior to quartz and ceramic coating (glass coating). Using the correct pads you can compound and glaze with just one product!
Pages