Hand Sanitiser Gel - 70% Alcohol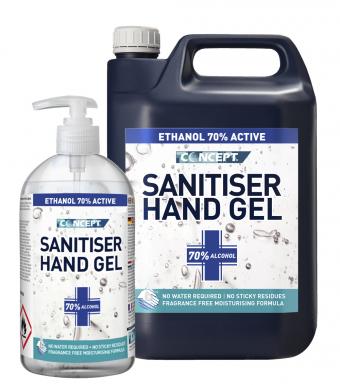 Simple, effective, easy to use
Concept's Sanitiser Hand Gel kills germs and eliminates bacteria without the need for water, preventing the spread of infection and disease.
70% Ethanol Formula - Kills 99.9% of bacteria and germs.
• No water required
• Fast drying - no sticky residue
• Fragrance free
• Food Safe
Formulated to minimize the risk of allergic skin reactions.
Wide Application/use
Designed for use in workplaces, hospitals, care homes, schools, kitchens, food processors, funeral homes, offices, gymnasia, industrial premises or anywhere where bacteria control is important.
Keeps hand soft - Contains humectants to moisturise the hands after frequent use.
Ideal as a regular-use hand sanitiser in the healthcare and food industries
Downloads
Datasheet:

Hand Sanitiser GEL.pdf
MSDS:

Concept SANITISER HAND GEL- GB - 2020.pdf
Additional Info:

Sanitiser Hand Gel leaflet.pdf