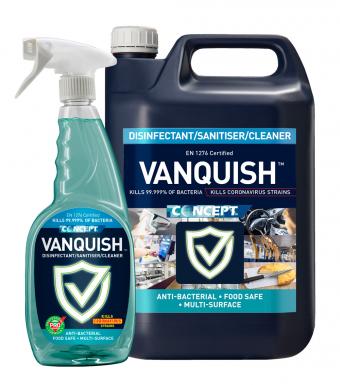 Simple, effective, easy to use
Vanquish is simple, very effective and easy-to-use for both professionals and non-professionals.
Spray directly onto surfaces, leave for up to 5 minutes contact time for biocidal action to work - then wipe with a clean damp cloth to remove residues for an ultra-clean result.
• Food safe, fragrance free
• TOTAL cleaning power
Vanquish provides effective infection control against harmful micro-organisms such as: MRSA, E.Coli (Escherichia Coli) Enterococcus hirae strains, Pseudomonas Aeruginosa (certified to EN 1276). Vanquish is also effective against Candida Albicans, Aspergillus Brasileensis (certified TO EN 1650 and EN 13697). Being fragrance-free, Vanquish is food safe.
Downloads
Datasheet:

Vanquish.pdf
Additional Info:

Vanquish Sanitiser:cleaner leaflet_02.pdf