Wall or Stand Mount ~ Automatic Gel or Liquid Sanitiser Dispenser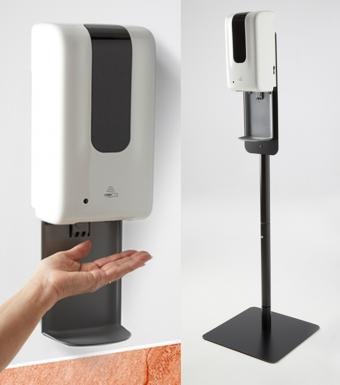 Robust automatic wall or stand mount dispenser for Concept Gel or Liquid sanitisers.
Place hands underneath the dispenser and a sanitiser (gel or liquid) is delivered onto the hands without the need to touch anything.
A choice of wall mount or stand.
The optional stands are ideal to place at entrances to facilities, ensuring everyone entering is practicing good hand hygiene and keeping Covid-19 and other viruses at bay.
Simple to install and refill;
• Re-fillable 1.2 litre Reservoir
• 1 Battery Set delivers 30,000 shots
• Includes Lockable Cover
• Attractive Robust Metal Stand
• Replacement Sensor Mechanisms available