100ml Hand Sanitiser Liquid - 70% Alcohol - 18 pack outer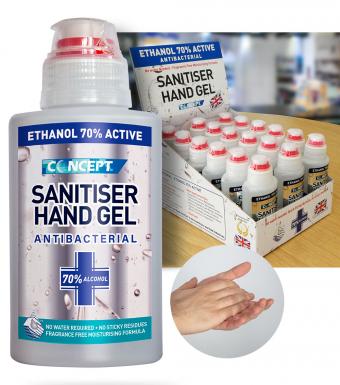 Exactly the same effective formula as is available in larger pack sizes but now in the perfect handy 100ml size for a briefcase, handbag, baby bag, gym bag, school bag, tool kit, glovebox etc.
Simple and effective.
Supplied in a stylish branded display box containing 18x100ml, ideal for petrol / gas stations, shops, gyms, restaurants, hotels, in fact everywhere and anywhere…
Simple, effective, easy to use
Concept's Sanitiser Hand Gel kills germs and eliminates bacteria without the need for water, preventing the spread of infection and disease.
70% Ethanol Formula - Kills 99.9% of bacteria and germs.
• No water required
• Fast drying - no sticky residue
• Fragrance free
• Food Safe
Formulated to minimize the risk of allergic skin reactions.
100ml - 18 units outer
948100S
Downloads
Datasheet:

Hand Sanitiser GEL.pdf