ZQ9h Quartz Coating Application Kit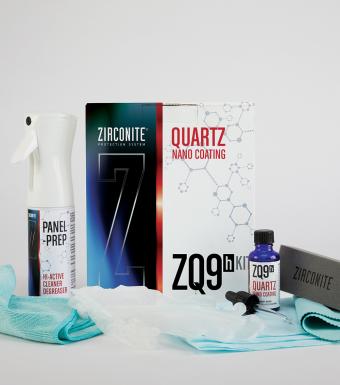 Permanent bond quartz (glass) coating. High gloss, multi-surface protection with advanced chemical and corrosion resistance: unaffected by repeated washing cycles from pH2 to pH12
Forms a permanent bond to all surfaces: coating can only be removed by abrasion. Oxidation and UV resistant. Scratch resistant: pencil test hardness 9h.
Panel Prep has been specially formulated surface pre-clean treatment to ensure a perfect surface for cleanliness and adhesion of ZQ9h.
Contents:
1 x ZQ9h Quartz Nano Coating 30ml*
1 x Glass Pipette
1 x Zirconite Applicator Block
2 x Zirconite Micro- Suede Cloths
1 x Panel-Prep 185ml
3 x Zirconite lint-free Panel-Prep cloths
2 x Zirconite microfibre cloths
1 x Pair Rubber Gloves
1 x Zirconite Sticker
1 x Instruction leaflet
*50ml ZQ9h also available