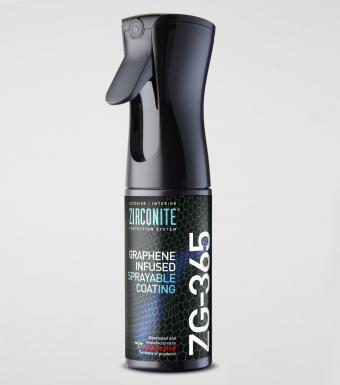 Providing 365 days' protection against dirt, grime and weathering, ZIRCONITE ZG-365 can be used on paintwork and other hard surfaces, such as plastic trims and wheels, offering effortless maintenance to keep them in pristine condition.
Developed in collaboration with The University of Manchester's Graphene Engineering Innovation Centre (GEIC) [https://www.graphene.manchester.ac.uk/geic/], renowned for its pioneering work in the research and development of graphene for commercial applications.
ZIRCONITE ZG-365's graphene-infused formulation provides an exceptionally high-slip gloss finish when applied to a vehicle's exterior surfaces, helping to maintain and enhance the dramatic and magical 'Lotus-Leaf' water beading effect; repelling water and dirt build up.
Zirconite ZG-365 simply mists on and buffs off to leave a tough, gloss finish, with the coating rapidly curing to form a strong chemical bond to automotive paintwork and other hard substrates.
Used as a standalone coating or as a "booster" spray for other Zirconite coatings, ZG-365 is quick and easy to use for both the professional and enthusiast.
Downloads
Datasheet:

Zirconite ZG-365 Data Sheet.pdf