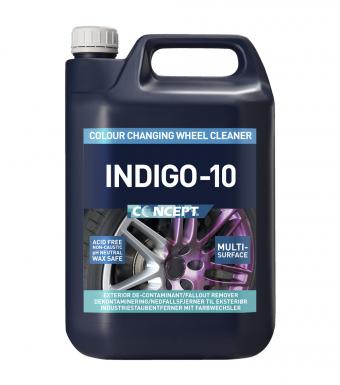 Indigo-10 is a pH neutral, acid free, non-caustic wheel cleaner de-contamination/fallout remover. This pH neutral colour changing formulation delivers a powerful, safe and effective cleaning action delivering a high gloss finish.
A safe and highly effective cleaner for the removal of brake dust and Iron Oxide particulates [Industrial Fall-Out]. Colour changing action occurs during the cleaning/decontamination process – changing from Clear to Dark Purple.
Indigo-10 is highly effective on removing rust (iron oxide). Multi-surface safe: can be used on all vehicle exterior surfaces: paintwork, plastics, glass, chrome etc.
Downloads
Datasheet:

Indigo-10.pdf
MSDS:

INDIGO-10 - GB - 2021.pdf