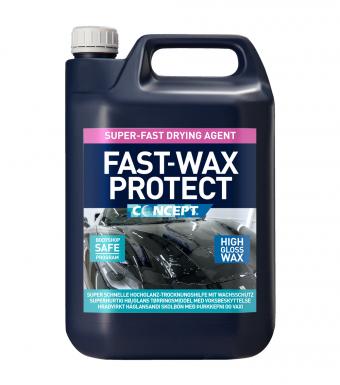 Advanced formula drying agent concentrate.
Contains a unique blend of waxes: safe on all exterior surfaces; paintwork, glass, plastic trim and cabriolet roofs.
Extended life Protection: improves with regular use to deliver a super high-slip finish, to repel water and dirt build-up.
• Speeds up drying time;
• Enhances gloss;
• Exceptional hydrophobic 'lotus leaf effect';
• High-slip durable wax protection
• Makes future maintenance cleaning easier.
Automated Wash/Roller Brush Machines:
Brilliant finish with both a fresh water set-up and when recycled water is used. Use with or without blow dryers.
Manual Use: with a low-pressure sprayer or through a pressure washer, hot or cold water.
Downloads
Datasheet:

FAST-WAX PROTECT.pdf
Additional Info:

FAST WAX PROTECT - GB - 2021.pdf